Beeliar Dental Crowns and Bridges
Crowns
A crown is a laboratory fabricated cover or a cap that is made to fit over an existing tooth, replacing the whole roof of the tooth so that the underlying tooth can be held together tightly enough so that nothing breaks. A crown can increase the strength of a weakened tooth to surpass that of the original natural tooth.
A Crown may be recommended for the following scenarios:
Badly broken down, cracked or worn down teeth
Fixing up the tooth after having had a root canal treatment done
Badly discoloured teeth which don't respond to whitening
Help stabilize and retain strength
There are many types of crowns available. The type of crown usually will be dictated by the clinical situation and your preference after consultation with one of our dentists.

Bridges
We offer bridges for people with missing teeth. Dental bridges cover or work as a bridge to the gap made by a missing tooth. This prevents the adjacent teeth from moving out of place. Dental bridges can also save you from the need to have dentures or implants. Bridges work just like natural teeth.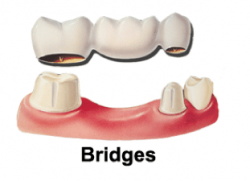 If you are looking to make a booking please click the button above. If you have a question please call
(08) 9437 5999
or fill out the form below.